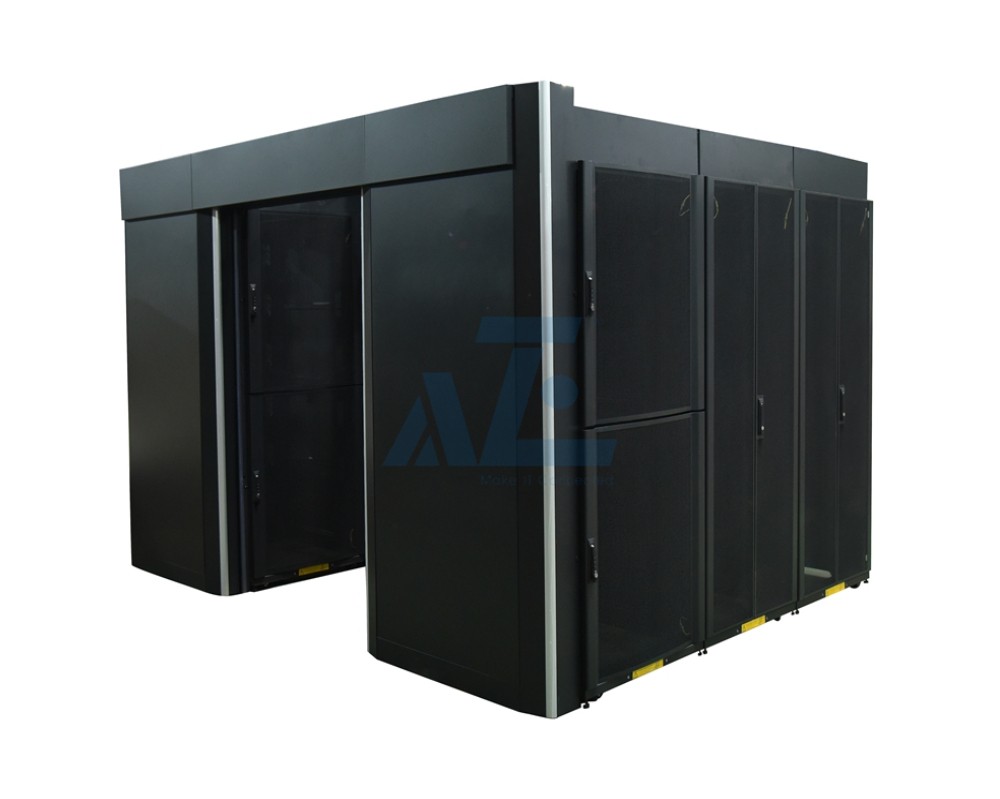 Aisle Containment Solution with 48U 600mmWide x 1200mmDeep Server Rack Enclosure
---
Aisle Containment is an intelligent thermal containment solution designed to increase cooling system efficiency while protecting critical IT equipment and personnel.It offers superior airflow management,lower the data center energy demands and save on energy costs, also can provide a safe and efficient environment for IT equipment and can be deployed in zones or modules to gain the benefit at either the rack or row level.
48U server rack
Dual sliding door
Adapts to varying rack heights, aisle widths, and rack depths
Aisle containment ceilings, walls and end of rows are designed to help maintain optimal operating temperatures in server rooms and data centers
Modular design, flexibity,fast deployment
Customization available
---
---
MAC12-RS48612 Features
| | |
| --- | --- |
| Key Features |   |
| Rack Size | 48U 600mmW x 1200mm |
| Aisle Width | 1200mm/42inch |
Includes: Top roof ceiling, top cable management and other server rack accessories.
Features & Benefits
| | |
| --- | --- |
| Compatiblity |   |
| Rack Systems Compatible | Compatible with a variety of AZE's rack accessory products to provide the ability to create a complete rack system |
| EIA-310 19in Rack Mounting Compatibility | Compatibility with all EIA-310 compliant 19" equipment. |
| High capacity cable management systems options | Compatibility with high capacity cable management that can attach to rack mounting rails inside enclosures aligning with U-space marks and provide channels for cabling. |
| Power option | Compatibility with PDUs- basic rack PDU or intelligentrack PDU,provide the device powering or remotely metering,switching the outlet to control devices |
| Cooling option | Compatibility with in-row based cooling unit or room cooling unit. |
| Control option | Compatibility with IP-based KVM to control the devices together with intelligent rack pdu |
| Monitor option | Compatibility with EMS to monitor the site environment such as temperature,humudity,door open/close status,alarm,etc. |
|   |   |
| Containment Design |   |
| Server Rack | We supply server rack,colocation server rack option to store your IT equipments,it comes with standard design and can deploy any units that you need |
| Containment components | Design based on unit rack, the containment components can build a closed space that cooling heat that generated by the equipment,saving the energy. |
|   |   |
| Convenience |   |
| Half-height side panels | Lockable Half-height quick release side panels reduce size and weight for easy handling and access to equipment. |
| Eyebolt lifting holes options | Eyebolt holes at the top corners of the enclosure frame allow the enclosure to be lifted for movement and enclosure placement using eyebolt lifting mechanisms. |
| Perforated front and rear door with curved profile | Perforated front and rear doors provide high perforation rating |
| Quick release doors | Front door can be moved to the opposite side or interchanged with rear doors. Doors are easily removed with simple lift-off design. |
| Equipment mounting rails | Equipment mounting rails provide EIA 19" mounting space |
| Cable access openings with pre-installed brushes | Roof includes openings with brush strips pre-installed to allow for data cable passthrough and provisions for air containment |
| Easily removable cable access roof | Roof can be removed with simple pull-pin hinges for access during equipment installation or even with cabling already in place and routed through the cable openings. Once removed the roof is reversible to reposition the larger cable openings for power distribution plugs and connectors. |
|   |   |
| Safety |   |
| Electrical grounding | The roof, side panels and front and rear doors are grounded to the frame of the enclosure. |
| Load Capacity | A proven frame design, heavy-gauge mounting rails, and heavy-duty casters provide for a 3000 lb (1500 kg) static (levelling feet) and 2250 lb (1023 kg) dynamic (castor) load ratings (42U-52U). |
|   |   |
| Agility |   |
| Adjustable mounting rails | The vertical mounting rails can be adjusted in 1/2 inch increments covering virtually any mounting requirement for IT equipment. Easy alignment feature integrated into the enclosure mounting rail and side brace for quick alignment verification |
| Bay brackets hardware with multiple width enclosure alignment | Enclosures include pre-installed joining hardware to join enclosures in a row and provide additional stability to the enclosure. The pre-installed joining hardware includes holes for joining to an adjacent enclosure at 600mm centers or 24in centers depending upon the floor layout. |
| 2" heavy duty castors and adjustable leveling feet from underneath or above | Enclosures are shipped standard with both leveling feet and castors. Leveling feet can be quickly adjusted through the use of a screwdriver or drill, eliminating the need to reach underneath with a wrench. |
| Pre-installed full-enclosure height rear accessory channels | Integrated and adjustable rear accessory channel provides zero U mounting locations for toolless accessories. Each channel has two mounting bays to support a combination of up to four accessories such as PDUs and vertical cable organizers. |
| Split rear doors | Split rear doors improve access and serviceability to rear of rack mounted equipment. The split rear doors help to maximize floor space. |
---
Specification
| | |
| --- | --- |
| Environmental |   |
| IP (Ingress Protection) Rating | IP20 |
|   |   |
| Physical |   |
| Color | RAL9001 Black or RAL7035 Grey |
| Rack option | 48U 600mmW x1200mmD |
| Aisle width | 1200mm |
| Aisle end door option | Dual sliding door or mechinical swing door |
|   |   |
| Electronics |   |
| Cooling | In-row cooling or room cooling air conditioner |
| Power | PDU(Basic or intelligent), or power cabinet |
| Sensors | Door Sensor/Water Sensor/Temperature & Humidity sensor/Smoke sensor/Tilt & Shock sensor |
| Monitoring | EMS,KVM Switches,Smart PDU |
|   |   |
| Certifications |   |
| Approvals | DIN41491, DIN41494, EIA/ECA-310-E, IEC 294-2, RoHS |
| Safety | CE |
|   |   |
| Warranty |   |
| Standard warranty | 1 Year |
---
How to Order
Model

Dimension(WxDxH)

Description

Containment Components

RS48612

600mmx1200mmx48U

Data Center Server Rack Enclosure,48U 600mmWx1200mmD,Black or White Color option

Server Rack Enclosure

RS48612CL2-W

600mmx1200mmx48U

2-Bay Colocation Server Rack Enclosure,48U 600mmWx1200mmD,Black or White Color option

RS48612CL4

600mmx1200mmx48U

4-Bay Colocation Server Rack Enclosure,48U 600mmWx1200mmD,Black or White Color option

Basic Rack PDU

0U/1U

Provide Reliable Power Distribution to multiple devices from a UPS system, generator or utility (mains) source.

Power Distibution( PDU)

Metered Rack PDU

0U/1U

Provide real-time remote monitoring of connected loads.

Switched Rack PDU

0U/1U

Provide real-time remote monitoring and remote on/off switching control and of individual outlets for power cycling, delayed power sequencing, and outlet use management.

MAC-MD1222

1200mm x 2200mm

Mechnical Aisle End Door, Toughened Glass,with TCP/IP door access locking system

Aisle Doors

MAC-SD1222

1200mm x 2200mm

Sliding Aisle End Door, Toughened Glass,with TCP/IP door access locking system

MAC-RC0612

600mmx1200mm

Modular Top Roof Ceiling Kits(included top roof, supporting bracket for top roof,external decoration panel) for the 600mmWide rack and 1200mmWide Aisle

Aisle Roof Ceiling

RACABLETRAYM24

600mm

Power Cable trough for 24 in. enclosures

Top Cabling Accessories

RACABLETRAYN24

800mm

Data cable partition for 24 in. enclosures

RACABLELADDER6IN3M

6 inch x 3000mm

6 in. Wide Cable Ladder, 1.5 meters per section, 2 sections per pair

MAC-MONITORSYS

n/a

Monitor systems for the aisle containment, including the network EMS unit(can provide the data collection, fire system and sound/light alarm and monitor the A/C, UPS, and power systems), software,10inch screen

Monitor Systems

RASENSOR-TH

n/a

Sensor for the temperature and humidity in the aisle

Controllers & Sensors

RASENSOR-SM

n/a

Sensor for the smoke in the aisle

RASENSOR-W

n/a

Sensor for the water in the aisle
Shipping Option: Assembly unit or flat packed

2" castors or 3" HD castors optional for the server rack cabinets

White (RAL7035) or black(RAL9005) server rack enclosures available

The server enclosures can be preconfigured without standard doors and side panels,more configurations are available please contact representative for more information
---
Options
---
Application
The aisle containment system improves cooling efficiency in hot aisle/cold aisle rack configurations by essentially creating a room within the aisle and keeping hot and cold air separated to make existing air conditioning systems in data center and edge-of-network installations more efficient.It can provides a secure, engery-efficiency environment for your critical IT equipment in the data center room.
Data center/Colotion/Hosting
Edge computing
Cloud compute
Enterprise
Education
Healthcare
---
Video
Related Article