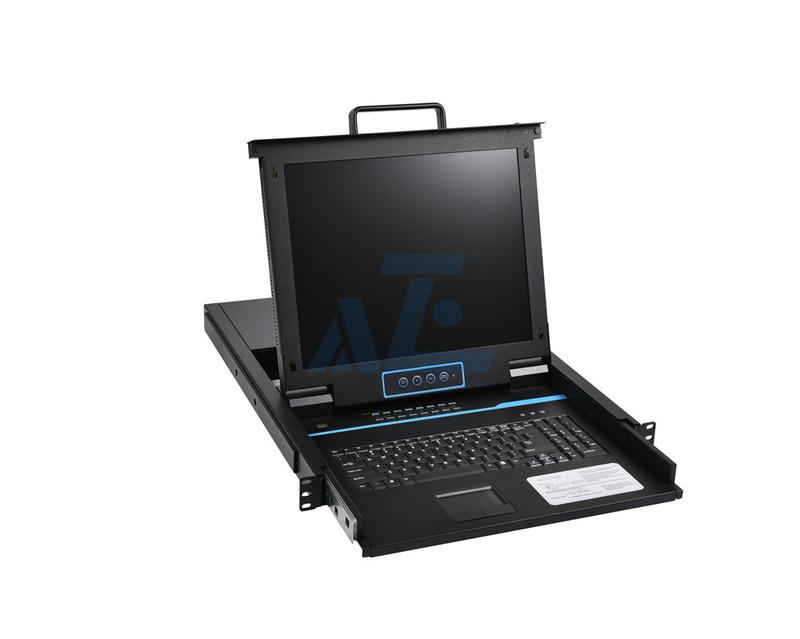 1U Rackmount 16 Port DVI KVM Console- Integrated KVM Switch w/ 17inch LCD monitor
---
The 16 port rackmount DVI KVM console mounts 1U rack space of server rack or cabinet, it can provide centralized control of your PC, server, or KVM switch, this 16 port rackmount KVM console gives you easy access to your connected system.
1U KVM Console
DVI (16 port)
17inch LCD Monitor
17" LCD screen support resolution up to 1280x1024@60Hz
Provides 2-level password security (Administrator and User)
Multiplatform Support-Compatible with Windows, Sun, Unix and Linux
Cable & Mounting Hardware Included
---
---
RMCON1716DVI Features
17" LCD KVM Switch has a built-in LCD monitor that supports resolution up to 1280x1024@60Hz. Switching between computers can be easily accomplished by front panel pushbuttons, keyboard hotkey combination or on-screen-display (OSD).The KVM switch supports both USB and PS/2 connections for the computers. An DVI port allows an additional DVI monitor to be connected.
| | |
| --- | --- |
| Key Features |   |
| Rack Height | 1U |
| Display Size | 17inch |
| Nominal Input Voltage | 100V, 240V |
Includes: C13-C14 power cord(or regional power cords such as UK, EU,ANZ,etc),Installation guide, USB/PS2 KVM cable,rackmount hardwares
Features & Benefits
| | |
| --- | --- |
| Compatiblity |   |
| EIA-310 19in Rack Mounting Compatibility | Compatibility with all EIA-310 compliant 19" equipment. |
|   |   |
| Convenience |   |
| PS/2 terminations | Connect to a server or KVM switch via standard PS/2 connectors. |
| Standard VGA termination | Connects to a server or KVM switch via a standard DVI connector. |
| Occupies 1U of rack space | Conserve valuable rack space in the data center. |
| Integrated touchpad pointing device Integrated Trackball | Eliminates the need for a separate, external mouse. |
| Multi-platform Support | Windows, Sun, Unix and Linux compatible. |
|   |   |
| Agility |   |
| Slide rails | Quickly and easily install in square, round, and threaded hole racks. |
| Quick release tabs | Insert or remove the device with ease |
| On-Screen Display (OSD) adjustments | Adjust the on-screen image, including: auto adjust, exit, power on/off, brightness, menu, and a power indicator |
Diagram

Cascade Feature
Directly access and control up to16 servers with single RMCON1716DVI
By cascading to another 31 switches, as many as 512 servers can be controlled
Security Feature
Two level password security--only authorized users view and control computers
Up to 4 users and an administrator with a separate profile for each 17" rack LCD KVM console
---
Specification
| | |
| --- | --- |
| KVM Type |   |
| IP Control | No |
|   |   |
| Computer Connections |   |
| Direct | 16 |
| Maximum | 16 |
| Port Selection | On-screen-display (OSD),Hotkey,Pushbutton |
| Emulation(Keyboard / Mouse) | USB |
|   |   |
| Connectors |   |
| KVM Ports | 16 x DVI-D Female (White) |
| Power | 1 x IEC 60320/C14 |
| External Console Ports | 1 x DVI-D Female (White) |
| External Mouse Port | 1 x USB Type A Female |
| USB Port | 1 x USB Type A Female |
|   |   |
| Power |   |
| Maximum Input Power Rating | 100V~ 240Vac , 50~60Hz; <1.5A |
| Power Consumption (In Watts) | 24W |
|   |   |
| LCD Monitor |   |
| LCD Module | SXGA TFT LCD |
| Display Size | 17" |
| Resolutions | 1280×1024@60Hz |
| Display Color | 16.7M colors |
| Contrast Ratio | 1000 : 1 (Typ) |
| Luminance | 250cd/m²(Typ) |
| Pixel Pitch Support(mm) | 0.264(H) × 0.264(W) |
|   |   |
| Keyboard |   |
| Keyboard | 99 keys(82 keys main keyboard +17 independent small numeric keyboard) |
|   |   |
| Mouse |   |
| X/Y resolution | >1000 points / inch,(40 points/mm) |
| Touchpad with Scroll wheel | Support scroll wheel function(Eliminates the need for a separate, external mouse) |
|   |   |
| Environmental |   |
| Operating Temperature | 0°C to 40°C (32°F to 104°F) |
| Storage Temperature | -20°C to 60°C (-4°F to 140°F) |
| Humidity | 10 ~ 80% RH |
|   |   |
| Physical |   |
| Color | Black |
| Housing | Metal |
| Rail Type | Single Rail |
| Unit Dimensions (WxDxH) | 17.64inches x 22.87inches x 1.67inches /448mm x 581mm x 42.5mm |
| Unit Weight | 28.65lbs./13Kgs |
| Shipping Dimensions(WxDxH) | 24.21inches x 30.12inches x 7.28inches /615mm x 765mm x 185mm |
| Shipping Weight | 41.88lbs./19 Kgs |
|   |   |
| Warranty |   |
| Standard warranty | 1 Year |
---
How to Order
| | | | | | | |
| --- | --- | --- | --- | --- | --- | --- |
| Model | LCD Monitor Size | Number of Computers | Computer Interface | Resolution | Description | Application |
| RMCON1701DVI | 17" | 1 | DVI | 1280x1024 | 1U Rackmount 17" DVI LCD KVM Console | Server Room,Data Center,Telecom,Traffic |
| RMCON1708DVI | 17" | 8 | DVI | 1280x1024 | 1U Rackmount 17" 8 Port DVI KVM Switch | Server Room,Data Center,Telecom,Traffic |
| RMCON1716DVI | 17" | 16 | DVI | 1280x1024 | 1U Rackmount 17" 16 Port DVI KVM Switch | Server Room,Data Center,Telecom,Traffic |
| RMCON1901DVI | 19" | 1 | DVI | 1280x1024 | 1U Rackmount 19" DVI LCD KVM Console | Server Room,Data Center,Telecom,Traffic |
| RMCON1908DVI | 19" | 8 | DVI | 1280x1024 | 1U Rackmount 19" 8 Port DVI KVM Switch | Server Room,Data Center,Telecom,Traffic |
| RMCON1916DVI | 19" | 16 | DVI | 1280x1024 | 1U Rackmount 19" 16 Port DVI KVM Switch | Server Room,Data Center,Telecom,Traffic |
| RMCON1701WDVI | 17.3" | 1 | DVI | 1920x1080 | 1U Rackmount 17" Widescreen FHD DVI KVM Console | Server Room,Data Center,Telecom,Traffic |
| RMCON1708WDVI | 17.3" | 8 | DVI | 1920x1080 | 1U Rackmount 17" FHD Widescreen 8 Port DVI KVM Switch | Server Room,Data Center,Telecom,Traffic |
| RMCON1716WDVI | 17.3" | 16 | DVI | 1920x1080 | 1U Rackmount 17" FHD Widescreen 16 Port DVI KVM Switch | Server Room,Data Center,Telecom,Traffic |
| RMCON1801WDVI | 18.5" | 1 | DVI | 1920x1080 | 1U Rackmount 18.5" Widescreen FHD DVI KVM Console | Server Room,Data Center,Telecom,Traffic |
| RMCON1808WDVI | 18.5" | 8 | DVI | 1920x1080 | 1U Rackmount 18.5" FHD Widescreen 8 Port DVI KVM Switch | Server Room,Data Center,Telecom,Traffic |
| RMCON1816WDVI | 18.5" | 16 | DVI | 1920x1080 | 1U Rackmount 18.5" FHD Widescreen 16 Port DVI KVM Switch | Server Room,Data Center,Telecom,Traffic |
---
Options
---
Application
The KVM Console provides all the essential controls you'll need to manage your server room at a low cost,it features a built-in keyboard and a touchpad for intuitive control, as well as a high-definition LCD display.1U 8 port rackmount DVI KVM consoles provide convenient, rack-mounted control options for single servers or entire server rooms
Server Room
Data Center
Colocation facilities
Improve the internal space efficiency of your server cabinet
Manage cabinet-mounted servers and KVM switches
---
Video
Related Article