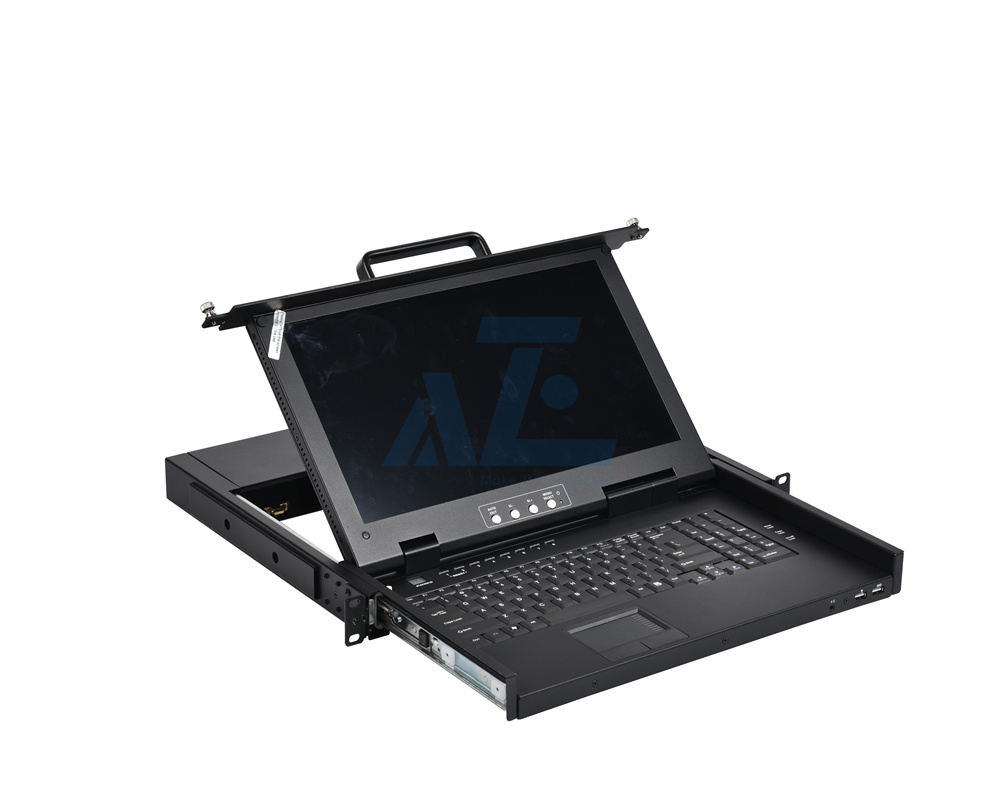 1U Rackmount 4 Port 15.6inch FHD LCD KVM Console
---
The 4 port rackmount FHD KVM console mounts 1U rack space of server rack or cabinet, it can provide centralized control of your PC, server, or KVM switch, this 8 port rackmount KVM console gives you easy access to your connected system.
1U KVM Console
VGA (4 port)
15.6inch FHD LCD Monitor
1920x1080
Cable & Mounting Hardware Included
---
---
RMCON1604W Features
1U rackmount console is the ideal solution for ETC specialized rack, 5G rack, network specialized rack and standard server rack. Featuring an integrated 15.6" LCD display, full-99 key keyboard and touchpad, all in a 1U rack-mountable housing, it supports the shortest mounting depth: 360mm.
| | |
| --- | --- |
| Key Features |   |
| Rack Height | 1U |
| Display Size | 15.6inch |
| Nominal Input Voltage | 100V, 240V |
Includes: C13-C14 power cord(or regional power cords such as UK, EU,ANZ,etc),Installation guide, USB/PS2 KVM cable,rackmount hardwares
Features & Benefits
| | |
| --- | --- |
| Compatiblity |   |
| EIA-310 19in Rack Mounting Compatibility | Compatibility with all EIA-310 compliant 19" equipment. |
|   |   |
| Convenience |   |
| PS/2 terminations | Connect to a server or KVM switch via standard PS/2 connectors. |
| Standard VGA termination | Connects to a server or KVM switch via a standard VGA connector. |
| Occupies 1U of rack space | Conserve valuable rack space in the data center. |
| Integrated touchpad pointing device Integrated Trackball | Eliminates the need for a separate, external mouse. |
| Multi-platform Support | Windows, Sun, Unix and Linux compatible. |
|   |   |
| Agility |   |
| Slide rails | Quickly and easily install in square, round, and threaded hole racks. |
| Quick release tabs | Insert or remove the device with ease |
| On-Screen Display (OSD) adjustments | Adjust the on-screen image, including: auto adjust, exit, power on/off, brightness, menu, and a power indicator |
Diagram

Cascade Feature
Directly access and control up to 4 servers with single RMCON1604W
Security Feature
Two level password security--only authorized users view and control computers
Up to 4 users and an administrator with a separate profile for each 15.6" rack LCD KVM console
---
Specification
| | |
| --- | --- |
| KVM Type |   |
| IP Control | No |
|   |   |
| Computer Connections |   |
| Direct | 4 |
| Maximum | 4 |
| Port Selection | On-screen-display (OSD),Hotkey,Pushbutton |
| Emulation(Keyboard / Mouse) | PS/2,USB |
|   |   |
| Connectors |   |
| KVM Ports | 4 |
| Power | DC12V |
| External Console Ports | 1 x SPHD Male (Blue) |
|   |   |
| Power |   |
| Maximum Input Power Rating | DC12V/2A |
| Power Consumption (In Watts) | 10W |
|   |   |
| LCD Monitor |   |
| LCD Module | FHD TFT |
| Display Size | 15.6" |
| Resolutions | 1920×1080@60Hz |
| Display Color | 16.2 M |
| Contrast Ratio | 800 : 1 (Typ) |
| Luminance | 250cd/m²(Typ) |
| Pixel Pitch Support(mm) | 0.17925(H) × 0.17925(W) |
|   |   |
| Keyboard |   |
| Keyboard | 99 keys(82 keys main keyboard +17 independent small numeric keyboard) |
|   |   |
| Mouse |   |
| X/Y resolution | >1000 points / inch,(40 points/mm) |
| Touchpad with Scroll wheel | Support scroll wheel function(Eliminates the need for a separate, external mouse) |
|   |   |
| Environmental |   |
| Operating Temperature | 0°C to 40°C (32°F to 104°F) |
| Storage Temperature | -20°C to 60°C (-4°F to 140°F) |
| Humidity | 10 ~ 80% RH |
|   |   |
| Physical |   |
| Color | Black |
| Housing | Metal |
| Rail Type | Single Rail |
| Unit Dimensions (WxDxH) | 17.64inches x 14.17inches x 1.67inches /448mm x 360mm x 42.5mm |
| Unit Weight | 18.73lbs./8.5 Kgs |
| Shipping Dimensions(WxDxH) | 23.62inches x 21.18inches x 6.3inches /615mm x 538mm x 160mm |
| Shipping Weight | 28,65lbs./13 Kgs |
|   |   |
| Warranty |   |
| Standard warranty | 1 Year |
---
How to Order
| | | | | | | |
| --- | --- | --- | --- | --- | --- | --- |
| Model | LCD Monitor Size | Number of Computers | Computer Interface | Resolution | Description | Application |
| RMCON1701 | 17" | 1 | VGA | 1280x1024 | 1U Single Port 17" Single Rail LCD Console | Server Room,Data Center,Telecom,Traffic |
| RMCON1708 | 17" | 8 | VGA | 1280x1024 | 1U Rackmount 8 Port KVM Console for Server Rack-17inch | Server Room,Data Center,Telecom,Traffic |
| RMCON1716 | 17" | 16 | VGA | 1280x1024 | 1U Rackmount 16 Port KVM Console for Server Rack-17inch | Server Room,Data Center,Telecom,Traffic |
| RMCON1901 | 19" | 1 | VGA | 1280x1024 | 1U Single Port 19" Single Rail LCD Console | Server Room,Data Center,Telecom,Traffic |
| RMCON1908 | 19" | 8 | VGA | 1280x1024 | 1U Rackmount 8 Port KVM Console for Server Rack-19inch | Server Room,Data Center,Telecom,Traffic |
| RMCON1916 | 19" | 16 | VGA | 1280x1024 | 1U Rackmount 16 Port KVM Console for Server Rack-19inch | Server Room,Data Center,Telecom,Traffic |
| RMCON1601W | 15.6" | 1 | VGA | 1920x1080 | 1U Single Rail 15.6" Widescreen LCD KVM Console,Ultra Short Depth | Server Room,Data Center,Telecom,Traffic |
| RMCON1604W | 15.6" | 4 | VGA | 1920x1080 | 1U Single Rail 4 Port 15.6" FHD LCD KVM Console,Ultra Short Depth | Server Room,Data Center,Telecom,Traffic |
| RMCON1608W | 15.6" | 8 | VGA | 1920x1080 | 1U Single Rail 8 Port 15.6" FHD LCD KVM Console,Ultra Short Depth | Server Room,Data Center,Telecom,Traffic |
| RMCON1701W | 17.3" | 1 | VGA | 1920x1080 | 1U 17.3" FHD Rack Mount LCD Console | Server Room,Data Center,Telecom,Traffic |
| RMCON1708W | 17.3" | 8 | VGA | 1920x1080 | 1U 17.3" 8 Port FHD Rackmount LCD KVM Console 1080P | Server Room,Data Center,Telecom,Traffic |
| RMCON1716W | 17.3" | 16 | VGA | 1920x1080 | 1U 17.3" 16 Port FHD Rackmount LCD KVM Console 1080P | Server Room,Data Center,Telecom,Traffic |
| RMCON1801W | 18.5" | 1 | VGA | 1920x1080 | 1U 18.5" FHD Rack Mount LCD Console | Server Room,Data Center,Telecom,Traffic |
| RMCON1808W | 18.5" | 8 | VGA | 1920x1080 | 1U 8 Port 18.5" Widescreen LCD KVM Switch | Server Room,Data Center,Telecom,Traffic |
| RMCON1816W | 18.5" | 16 | VGA | 1920x1080 | 1U 16 Port 18.5" Widescreen LCD KVM Switch | Server Room,Data Center,Telecom,Traffic |
---
Options
---
Application
The KVM Console provides all the essential controls you'll need to manage your server room at a low cost,it features a built-in keyboard and a touchpad for intuitive control, as well as a high-definition LCD display.1U 4 port rackmount FHD KVM consoles provide convenient, rack-mounted control options for single servers or entire server rooms
Server Room
Data Center
Colocation facilities
Improve the internal space efficiency of your server cabinet
Manage cabinet-mounted servers and KVM switches
Related Article